They had other careers before deciding to counsel residents of homeless shelters.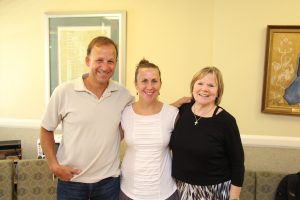 The word "intern" usually conjures an image of a young graduate, making his or her first foray into the workforce. But that's not the case for Mary Mellon Trotter, who spent the summer as a mental health counseling intern in the Ministry.
Mellon Trotter already had a long and successful career in the nutrition field. She even helped Michelle Obama develop a nutrition program. But she decided to move in a new direction, so she went back to school and recently graduated from Neumann University with a degree in counseling.
"It's never too late," she said.
Mary was part of a team of four summer interns supervised by Shannon Ayres, the Ministry's mental health counselor, who works with clients in the shelters and other programs.
She and one other intern, Blair Souder, finished their time in the program last month, after completing 250 hours of pro bono counseling services. Souder holds a degree in chemical engineering and an MBA. Like Mary, he went back to school later in life, earning a counseling degree at Neumann.
When asked about their experience at the Ministry they both chose the same word, "transformative." 
"It would be impossible to not carry this experience with you for the rest of your life," Mellon Trotter said.
At a small gathering to mark their successful completion of the program, Ayres commended them for their service.
"As counselors, we are asked to bear witness to a lot of suffering, a lot of loneliness, and a lot of life's core deep issues. The fact that the two of you were willing to come in and shelter these clients with your hearts, it takes a very special type of person," Ayres said.
"It's really planting the seeds and allowing people to grow from that. A lot of times these people have never been afforded the opportunity to have people listen to them in a non judgmental way, in a real compassionate way."
The other two interns, Amanda Moore and Sr. Kathy Flood, OSF, are still in the program.
Moore, 27, works full-time as a para-educator with the Delaware Autism Program and is studying for a masters in mental health counseling at Wilmington University. In her internship, she spends time mostly at Hope House II and House of Joseph II. 
Moore says a lot of her work with Ministry clients focuses on helping them to forgive themselves and others.
"The moments that stick out to me are the moments you can see the hope in a client's face. You'll sit for a session, and they're not feeling like they have a lot of hope. But then you see the light bulb click on, when they realize they're able to be successful in life," Moore said. 
"I've had a few of those moments, and they have been really rewarding for me, to see their face light up. It's why, as counselors, we do what we do."
—by David Sullivan, communications intern