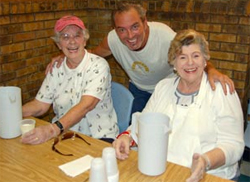 The Ministry of Caring is a special place where many long-lasting friendships begin.
Take for example the Emmanuel Dining Room (EDR) on Jackson Street. When you approach the kitchen window, you just might hear frequent bursts of giggling and laughter. If it's a Friday morning, the culprits are very possibly Barbara Kreuer and Mary McKernan. The two serve milk and water every other Friday morning to the dining guests at a table by the kitchen, greeting them with a warm and sprightly "Good Morning!" Mary is the one with the infectious laughter. "I enjoy (this work)," she says, "It makes me feel good, helping all of these people." No slacker in jocularity herself, Barbara concurs, "We do have fun!"
Over 40 years ago, Mary and Barbara met through the Wilmington Newcomers Club. Even then, they shared a strong interest in community involvement and volunteerism. Years passed, both women raised families, and each pursued her own philanthropic interests.
Around 2001, the women reconnected through a volunteer group at their parish, the Immaculate Heart of Mary in Wilmington. It was "God's timing," according to Barbara, that the two reconnected and began volunteering together at EDR. Their longtime friendship has been "built on the strength of common interests in the Ministry of Caring," says Barbara.
Barbara has over 20 years of volunteer and leadership experience with the Ministry of Caring. In 1990, she launched with Sr. Ann Marguerite Gildea, OSF, the Guild, the highly successful volunteer fundraising arm of the Ministry of Caring whose membership numbers 300 today. She was the Guild's first president and planned the first Eleganza Fashion Show, a still-popular Guild event that raises funds for the Ministry. Moreover, Barbara has chaired the EDR Auction and was President of the Board of Directors of the Ministry of Caring for a term that ended November 2010.
Mary began her volunteer work at EDR about 10 years ago with her late husband. She has also spent much time with the Ministry, attending EDR International Night dinners at Francis X. Norton Center. And she also has toured many other Ministry programs. Mary knits beautiful sweaters to be auctioned at the EDR spring auction each year.
According to Sister Kathleen O'Donnell, OSF, EDR site manager, the two women are a "cheerful pair" who "have great chemistry." Both women enjoy the "camaraderie of the people who work here, like Tony Attaway." Tony, assistant site manager of EDR, keeps the dining room orderly while he mingles with the guests, volunteers, and employees, entertaining them with his stories and wit.
A guest at EDR once told Barbara "When I came in, I was down. I feel so much better, just listening to your laughter." Barbara exclaimed to the gentleman, "Now YOU have made MY day!" Barbara has observed that some people who have more worldly goods are less grateful for the gifts that life has given them. She is amazed, she says, by how most EDR guests respond positively when greeted, despite their circumstances.
As her parting comment, Barbara quoted the homily that she heard from Father Bob at Mass that morning , "Why do we do things for other people – what are our motives?" He responded to his own question, "Whatever we do for others, we get back so much more."
"Amen!" say Barbara and Mary in unison!