Howard Burch, a combat veteran, spent two nights in the woods before finding shelter at House of Joseph I.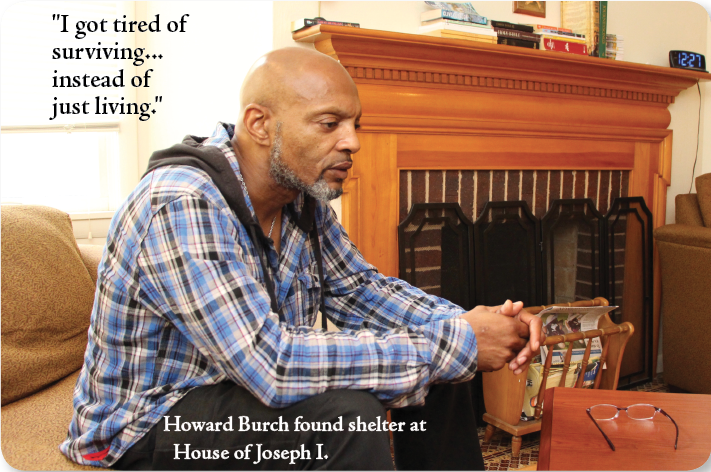 Shortly before he came to the Ministry of Caring, Howard Burch spent two nights sleeping outdoors.
A 56-year-old Marine combat veteran who served in Beirut, Lebanon, Burch had post-traumatic stress disorder stemming from his service, compounded by strife in his family.
"I was caught between a rock and a hard place," he said. "I just wanted peace. I wanted to practice peace."
Burch was recently divorced and had been living with an Iraq War veteran, but she became caught up in drug addiction. He knew he had to move out, but he had nowhere to go. While he was looking for a place to live, he learned his niece had been sexually assaulted, and he began feeling anger he couldn't control. He went to the urgent care center at the Veterans Affairs Medical Center in Coatesville, Pennsylvania.
"They told me they didn't have no beds," he said. "I slept in the woods for two days."
A counselor at the VA told him about the House of Joseph I (HOJI), the Ministry of Caring's emergency shelter for men. Burch made an appointment to meet the shelter director, Tony Attaway, but he thought it would be another dead end. He admits to having trust issues with men. He had grown up with an alcoholic father, who showed up drunk to his high-school track meets, if he showed up at all.
"I came in here, sat down here, and as soon as I saw Tony… there was something about him," Burch said, sitting on a couch in the HOJI living room. "I heard him out, we did the interview, and I stayed. Since I've been here, everyone's been a blessing."
Attaway said he saw a courageousness in Burch.
"He was quick to stand up and speak out for what he felt was right," Attaway said. "Being in the military, he came home with that same attitude, 'I will stand up and defend you.'"
Burch said, "I'm one of the ones who survived the Beirut experience. I just got tired of surviving, feeling as though every day was about surviving instead of just living. [House of Joseph I] gave me an opportunity to practice the small things—cleaning up in the morning, setting the table, breaking the table down, praying over the food, being thankful for the little things."
Burch began volunteering at Emmanuel Dining Room, and found comfort in serving those who were even less fortunate than himself.
Everywhere he went, he brought his backpack, filled with a notepad and a first-place ribbon he won in a singing contest. He discovered he was eligible for significant financial support due to his combat-related medical condition. After about a month at HOJI, he added a new item to his backpack—a key to his new apartment.  There's one HOJI staff member he was eager to show it to—his case worker, Jeremiah Thaara.
"Mr. Jeremiah, I can't wait to see him tomorrow.  He challenged me. He wanted to see the keys to my apartment. He wanted to see the lease agreement," Burch said. "I like to be a man of my word."