JOIN US FOR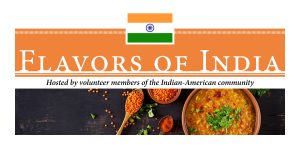 Flavors of India
OUR FIRST EVER INDIAN INTERNATIONAL NIGHT DINNER
Hosted by volunteer members of the Indian-American community
Sunday, March 26, 2023
LIMITED TO 160 REGISTRANTS. First come, first served!
Enjoy a great night out and a delicious dinner, all while supporting
a worthy cause? What's not to love about The Ministry of Caring's
International Night to benefit Emmanuel Dining Room!
Raffle to feature prizes from India!
MENU
Aloo Tikki
Authentic Indian potato patties stuffed with lentils and delicate spices garnished with thin crunchy strands/
noodles of deep fried chickpea flour and pomegranate arils. Served with mint and sweet and tangy tamarind-date sauces.
Lentil soup
Crushed tomatoes and vegetable medley combined with lentils and fragrant spices for an unforgettable delicious hearty soup.
Kachumbar
An Indian chopped salad with crunchy cucumbers, carrots, cabbage, beets, and apples. Dressing is made with lemon juice
and chaat masala – a zingy, tangy Indian spice mix that adds a burst of flavor to any dish. Enjoy this fresh salad with an Indian twist.
Your choice of entrée (includes rice and naan)
Butter Chicken
Golden pieces of chicken (or paneer / cottage cheese) roasted to perfection after marination in aromatic spices and
cooked in an incredibly creamy and flavorful buttery sauce served with basmati rice.
Meatless option, Paneer Makhani
Cubed cheese cooked with aromatic spices in creamy tomato sauce.
Alphonso Mango pudding
This pudding is "royalty" in a short glass! We used Alphonso Mangoes, also known as King of Mangoes in India
along with cream. Rose water highly prized for its sweet and tender notes was added to add perfume and that hint of romance!
Masala Chai
A delicious and popular Indian drink of blended black tea and
traditional spices for a sweet, rich, spicy brew, simmered in milk.
Dine-in, $25 per person, by prepaid reservation only
Sunday, March 26. Doors open at 5 p.m., dinner at 5:30 p.m.
This event is for dine-in only, no take-out available.
Francis X. Norton Center, 917 North Madison Street, Wilmington DE 19801
TO RESERVE YOUR DINNER, CLICK HERE
If you have questions, please contact
Emmanuel Dining Room Program Director
Father Meena Gude, OFM, Cap. (302) 652-3228
Email: frmeena@ministryofcaring.org
For questions about the menu, please email Shalini Khanna