Brother Ronald Giannone, OFM Cap.
Founder and Executive Director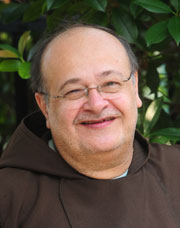 Brother Ronald Giannone is a Capuchin Franciscan friar, whose religious order has worked for over eight centuries among the poorest of the world's poor in imitation of its founder, St. Francis of Assisi.
In 1976, after serving poor senior citizens in New York, feeding the hungry at a monastery in Indiana and helping the rural poor in Sussex County, New Jersey, Brother Ronald was assigned to the St. Francis Renewal Center in Wilmington, Delaware. In his new city, the absence of services for the poor, especially for homeless women, deeply troubled him. Soon, he found his true vocation on the streets of Wilmington. Hence, the Ministry of Caring was born. Since 1977, he has served as the executive director.
Brother Ronald began his work by opening an emergency shelter for homeless women. Next came a dining room for the hungry. A second dining room was followed by a transitional residence for single women and a job placement center—all for the poor of Wilmington. Today, the Ministry of Caring consists of a network of 19 programs that form a continuum of care for the poor and homeless throughout the city. Besides providing the poor with needed shelter, the Ministry of Caring, under Brother Ronald's guidance, helps them to become self-sufficient with support services.
Still, Brother Ronald's work is not finished. He continues to galvanize support from staff, corporations, government, foundations, churches, synagogues, volunteers, donors and other groups and individuals. Together with him, these supporters help ensure that the Ministry of Caring continues to live by Brother Ronald's inspired conviction, "the poor should never be treated poorly."
Brother Ronald has a BA in theology from St. Joseph's University, a MA in theology from Villanova University, a paralegal certificate from the University of Delaware and a Doctorate in Humanities from Goldey-Beacom College.