Make a Major Difference
We invite dedicated donors – individuals and organizations of all kinds – to join the ministry's "Your Legacy of Giving" by pledging an annual donation of $1,200 or more. This heartfelt commitment, whether fulfilled by a single check or electronic donation – or multiple gifts throughout the year – will help guarantee the ministry's vital operational expenses.
To make your pledge now and become a member, CLICK HERE.
To learn more about this special membership group, contact Deputy Director of Development Priscilla Rakestraw at (302) 652-5523 or prakestraw@ministryofcaring.org.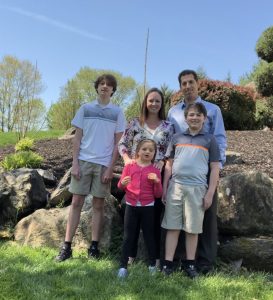 We are especially grateful to our donors who join "Your Legacy of Giving,"
including Damian and Jen Andrisani – shown with their children Paul,
Cecilia and Damian Jr., from left – who are charter members of this
important support group that provides vital operating funds.