Join Father Ronald on a trip of a lifetime to the Holy Land, January 3 – 12, 2024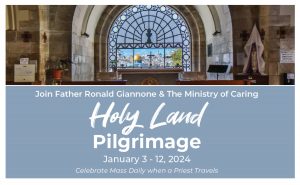 Presented in partnership with Educational Opportunities Catholic Tours, this amazing trip
to the Holy Land is filled with a range of fantastic sights, sounds, smells, and experiences
that you'll never forget.
Join Father Ronald Giannone and The Ministry of Caring for a Holy Land Pilgrimage starting
at $3,898* from Philadelphia on January 3, 2024.
You will see Cana, Nazareth, Mount Precipice, Capernaum, the Sea of Galilee, the Mount of
Beatitudes, the Church of the Loaves and Fish, the Chapel of the Primacy, and Magdala.
You will also visit: Mount Tabor, Mount Carmel, Emmaus, Qasr El Yehud, Wadi Qelt, Jericho,
Qumran, Dead Sea, Bethlehem, Bethany, Ein Karem, the Mount of Olives, the Garden of
Gethsemane, and much more!
BROCHURE: To download the full brochure, click here.
RESERVATIONS: To make your reservation online, click here.
If you wish to join us, mail your reservation and a deposit of $600 made payable to EO Catholic
Tours to the address on your registration form by September 19, and kindly send a copy of your
registration form to us.  A single supplement will cost an additional $898.  The balance must be
paid by October 20, 2023. We highly recommend the travel protection plan (rates listed on your
form), which must be paid with your deposit by September 19.
* the price of $3,898 is based on two people sharing a room. Please note there will be a surcharge
of 3.5% for credit card reservations.